Active holiday and family vacation
We think that a perfect vacation is a diversified vacation, so take a challange and see how you can spend time around Netanya. For instance, family members who wish to forget the pressures of urban life can spend a wonderful time while visiting farms, petting zoos, a water park, or cooking classes, you can also take a tour on bicycles and horses, or leave for overnight camping.
The Cactus Ranch in Michmoret
Kaima Be'erotaim
Halbrecht farm food garden
Organi Green
Mihmoret Neurim
Beit Yanai
Sarina chocolate
Sarina chocolate
In Moshav Ein-Vered in the Sharon area, in the midst of the orchard area, there is a magical world of chocolate.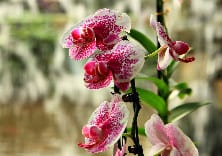 Utopia Orchid Park and Kakun Park
Utopia Orchid Park and Kakun Park
This is one of the few parks in the world which combines orchids, carnivorous plants, birds, fish, water plants and other exotic tropical plants in a tropical rain forest environment. From there we can proceed to the old crusaders' fortress situated at the Kakun ruins.