June 2023
Museum activity - Book Week
Kabalat Shabbat on the 2.6.23 at 11:00
Receiving Shabbat with light classical music with the wind ensemble of the City Music School
2/6/23
At 16:00 Poets write Nature – Kabalat Shabbat at the Oak tree grove
Family activity
15 shekel for parent +child
3.6.23 Yonatan Geffen's Netanya – and other writers, a literary tour in the city
Directed by Hava Appel. Meeting at the Netanya Museum
8/6/23 at 19:30 75 years of the British Sergeants' affair meeting with Peleg Levy
20 shekels
9/6/23 at 10:00 A market (Shouk) tour following smells, tastes & songs about Netanya
85 shekels
10.6.23 at 09:30 three large bombs fell on the city.
Netanya's story on the Six Day War
Meeting in from of 10 Mintz St
10.6.23 at 11:00 the Six Day War – a short war with a long term influence
Meeting with Mr Amos Eran former CEO of the Prime Minister's office
15/6/23 16:30
meeting with write Idit Jaroufi. Reading accompanied by her daughter's paintings
15 shekel per parent& child
16/6/23 at 10:00 wall painting and the art of Graffiti, a graffiti workshop in the Independence Square
17/6/23 at 10:00 about beaches, wall painting and diamonds .
A directed tour for the whole family in the Netanya Museum
19.6.23 at 19:30 Ben Gurion the Epilog
screening and meeting with the movie's director Yariv Mozer
25 NIS
"Then, at school" a nostalgic tour in a new exhibition and exciting activity for the grandchildren
15 shekel with pre enrollment
23/6/23 at 10:00 News from the beaches, what is happening to the cliffs, a tour from one beach to the other in Netanya
24.6.23 at 09:30 Herzl, the story of a city through its' street and a directed tour at the Netanya Museum. Suitable for children. Meeting opposite 10 Mintz St.
30/6/23 at 10:00 Beaches, wall painting, diamonds and an authentic renewed market in Netanya
Meeting at the Museum
All activities are done at the Museum – except tours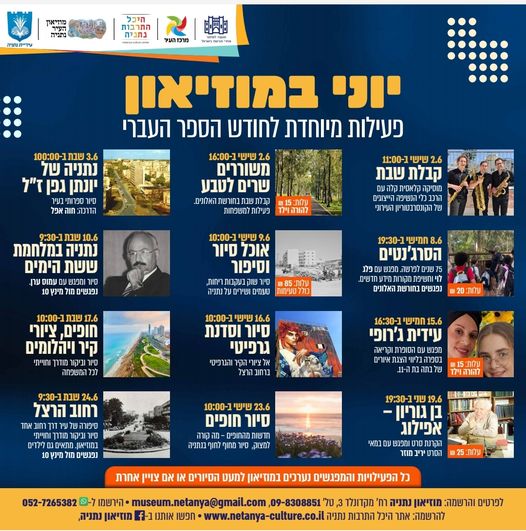 Contacts:
For details and enlisting – Netanya Museum 3 Mcdonald st tel. 098308851
Or whatsup 0527265382 museum.netanya@gmail.com
Enrolling: https://netanya.smarticket.co.il
Find us at Instagram
---
This error message is only visible to WordPress admins
Error: No connected account.
Please go to the Instagram Feed settings page to connect an account.