Winter 2020
Sculpture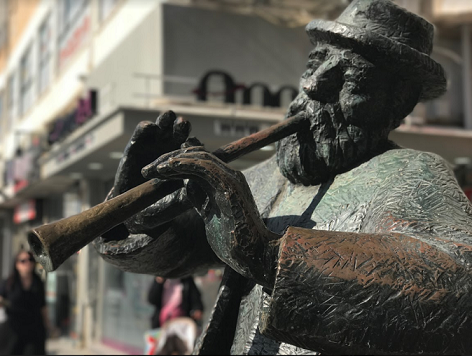 A mild Israeli winter (if of course it's not raining) is the best time to see Netanya properly. After all, there are many original statues in our town that, in the summer, tourists simply don't have time to look at them, while spending time on the beach.
First of all, there are the famous "klezmers" at the beginning of the pedestrian street near Independence Square, which have already become the unofficial symbol of the city. You didn't do selfies with the "klezmers" – you weren't in Netanya. Walking along the southern promenade named after the great director Claude Lanzmann, you will see unique works by Ruslan Sergeyev – sculptures and mosaics, from which you cannot take your eyes off.
On the Nitza promenade, near the "Seasons" hotel, stands the "violinist", and further, on the cliff promenade, a poignant statue of Tamar Fouzailov "Two".
In another corner of the city, at the beginning of the new Agamim neighborhood, you'll see a sculpture recently placed depicting writer Shalom Aleichem sitting on a donkey. Its creator is a resident of our city, the famous sculptor Lev Segal. Lev Segal created more than thirty works full of life related to Shalom Aleichem's work.