There is no other city with beaches like Netanya's.

https://gonetanya.com/wp-content/uploads/2017/06/GoNetanyaSlider_2018_Plages.jpg

There is no other city with beaches like Netanya's. 13,5 kilometers of golden beaches, some of the most beautiful in Israel. On the beaches there are restaurants, bathing facilities and various attractions.

Promenades from north to south

https://gonetanya.com/wp-content/uploads/2016/06/GoNetanyaSlider_2018_Promenads.jpg

The western-most part of Netanya is built on a sandstone ridge stretching from north to south and stands at a height of between 25 to 45 meters above sea level .

Graffiti in Netanya

https://gonetanya.com/wp-content/uploads/2016/09/GoNetanyaSlider_2018_Grafiti.jpg

Are you looking to relieve the monotony? Do you like colors? Do you want to enjoy a unique art style? We have plans for you. Photographer Ron Elijah followed in recent weeks a variety of stunning graffiti that adorn our city in diverse areas, ranging from the market, Herzl streets, Zangwill St., Independence Square and its surroundings, the municipal fire station and more... The result: one big wow !!
Kikar Boutique Hotel
Kikar Boutique Hotel
Kikar Boutique Hotel is a small, comfortable hotel, situated in the center of Netanya City, known for its beautiful Promenade and wonderful beaches. From the rooms and splendid terrace you can enjoy the sight of The Independence Square with its cozy cafes and nice restaurants small shops and fountains.
West Lagoon Resort Hotel Netanya
West Lagoon Resort Hotel Netanya
Perched atop a high cliff, looking out over pristine Mediterranean beaches, the West Lagoon Resort is raising the bar for luxury hospitality in Netanya, leading the city to new heights of elegance, opulence, and prestige.
The hotel's attractive location on Netanya's southern beach strip allows quick and easy access to major transportation arteries and the city center.
Hotel Medi Terre
Hotel Medi Terre
Medi Terre is a new modern Class A Hotel, created for those who value comfort, exclusivity, non-intrusive quite service, and superior quality. The Hotel is located virtually at the very seaside; just across the road is a gorgeous recreational sand beach with umbrellas, sun loungers, and cozy coffee shops.
Hotel David Tower
Hotel David Tower
The network, which has about 4,000 hotels around the world, opened the David Tower Hotel under the brand M gallery by Sofitel, and it will be a continuation of a series of hotels that the chain plans to manage in the country.
Q Hotel
Q Hotel
Q Hotel at Poleg Beach is a brand hotel on a green stretch of coast, offering guests luxury pastoral accommodation overlooking a beautiful, quiet beach.
The hotel has 40 spacious and beautifully fitted rooms to guarantee a calm, comfortable vacation experience. These include de luxe rooms with a jacuzzi.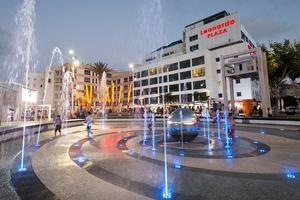 Hotel Leonardo Plaza Netanya
Hotel Leonardo Plaza Netanya
The Leonardo Plaza Hotel in Netanya is part of the Fattal hotel chain and presents a unique luxury hotel experience. The hotel is situated in an unbeatable location – on Independence Square, close to the promenade and only a minute's walk from the sea.
Hotel Seasons
Hotel Seasons
The Seasons hotel lies on the northern shore of Netanya overlooking the sea. Its rare location on a cliff enables a wonderful view of Netanya's endless white beaches combined with a green promenade that comes right to the hotel. This tourist gem is a short drive from Tel-Aviv (25 minutes) and a walk away from city center (5 minutes).
Hotel Ramada Netanya
Hotel Ramada Netanya
It is conveniently located just 20 minutes from downtown Tel Aviv, and only 15 minutes from the country's most challenging golf course, the Caesarea Golf Club. Situated on the shores of one of the Mediterranean's most alluring beaches, the five-star accommodations, full-service spa, relaxing pool and prime location will provide for the perfect combination of indulgence, accessibility and service.
Hotel Island Suites
Hotel Island Suites
Welcome to Island Suites Hotel, a beautifully designed landmark on the Netanya beachfront, offering much more than prestige and location.
Hotel King Solomon
Hotel King Solomon
King Solomon Hotel is located on Netanya's promenade, a few steps from the beach and a 5-minute walk from city centre. It offers a seasonal outdoor pool and panoramic sea views.